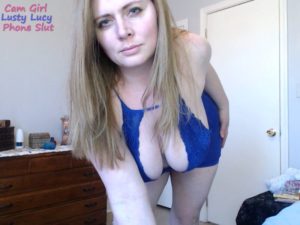 Researched gadgets for video project.
Sent out tweet.
Talked with a few callers about potential shows.
Show with regular. I added thigh highs for him and we talked about him rubbing his cock on my stockings while he sucked my pussy. I watched him stroke. I put my toy in my pussy and matched his strokes until we both came. I made a big mess on my dildo.
Show where both caller and I stood. He jerked cock, I had vibrator on my pussy. He hung up before he shot his load. Not sure if someone caught him or what!
Cleaned apartment.
Call from a new guy. Pulled tits out and watched him stroke while I teased and sucked dildo. He gave me a nice, big load.
Cleaned apartment.
Had a show with a guy I've played with once before. After a few technical issues on his end were figured out, he talked about licking my pussy and getting it wet for him then he talked about fucking my pussy naked, no condom. I used my toy on my pussy and he quickly got so worked up he had an orgasm. He very enthusiastically yelled as he came and it eventually turned into a coughing fit. Poor guy. He recovered and calmed down while we talked about the big load he squirted all over his belly.
Had a snack.
Nice long date with my GFE caller who I have mentioned a few times before. He had me change into this very slutty dress he has seen on me in pictures. I wish I had snapped some pics of me in it today. The ensemble with the heels and my hairstyle today was pretty cute. Usually I get up close to the cam for a lot of our shows, but this time we did much of it with me hanging back so he could see my ass, legs, heels and tits until the very end when he wanted my face close up. He gave me an option on where he should cum – on the stove, floor or his hand. I chose his hand since he had never done that for me before. I really liked that and he had a big load today! Then we chatted a bit about a trip he's taking. I love that we spend some time talking about regular life stuff in addition to playing. It really makes me feel good to get to know him on different levels.
Had a snack.
Worked on picture sets for Clips4Sale image site.
Show with regular creative dominant caller. He had me change into thigh highs and heels, as always. Had me kneel with knees parted. Put in butt plug. Put in dildo. Put on nipple clamps. Put one clothespin on each inner and outer pussy lip. Bounce on dildo. Butt plug metal made noise on floor with each bounce. It ended up falling out. I told him but he had me continue to bounce. Then he had me take all of the clothespins off, turn around and fuck myself with the dildo with my ass in the air and my face low near the floor. After a few more commands, he finally let me do whatever I wanted until I came. I opted for my vibrator. I was so worked up and wet, it didn't take long at all!
Walked my dog.
Phone sex call with a regular I have been enjoying time with for a while now. He has a very unique fantasy involving very extreme pain and injuries and then care giving. I am very turned on by our calls!
Had a quickie topless show where I played with my tits in various ways. The caller got off in about three minutes and gave me a very big load!
Talked to potential callers.
Had lunch.
Talked to potential callers.
Cleaned apartment.
Quickie phone sex call with regular. Choked on my dildo for a bit then did some dirty talk about sucking his cock.
Had a dirty show with a new regular! We've done some pee shows but this one was a regular mutual masturbation show where we talked about dirty things. There are some dirty things I'm willing to talk about, but not actually do on a show. And we went there! Every nasty thing you can imagine, we talked about and got off hard!
Did a topless show. We talked about a MMF threesome with another one of my callers (the three of us have done threesomes via Skype before). At the end, when he was ready to cum, all he wanted was lots of encouragement and cheering him on to give me a big load and he delivered!