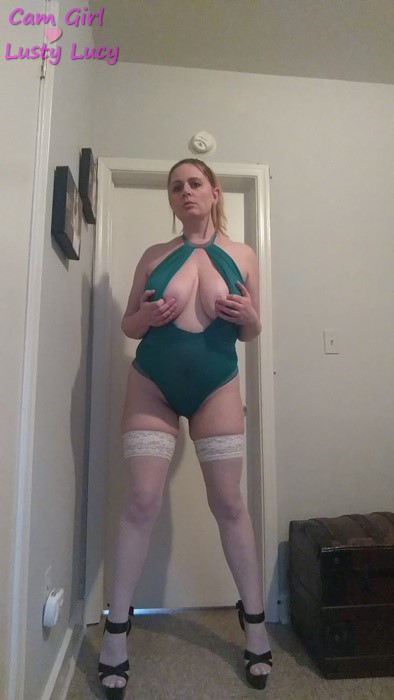 This was one of the busier days I've had. Particularly in the morning. From 10am to 2pm, I had non-stop shows. I would get off a show and hardly put my tits back in my outfit before another show would come in. It was so much fun! I also had a lot of really long shows and a few long phone sex calls too. After 2pm, it got quieter, but it remained steady. I wish every day was like this!
Took pics of my new cam outfit for onlyfans & Twitter.  Sent out tweet & posted on onlyfans. It wasn't really a new outfit. I actually bought the cam outfit months ago, but couldn't figure out how to put it on, got frustrated and stuffed it in a drawer. I came across it and gave it another try and luckily got it on right away this time.
Did a camshow with a regular where we watched some videos. The first videos were non-nude, but sexy JOI videos. Next we watched a video that started out by showing quick sections of porn that showed tits and pussy and then cock. Then cock going into a pussy. Then slowly more and more cock. All the while there was text on the video that explained what was appearing in the video. I can't remember what the text said at first, but as more cock appeared in the video, the text started saying that the viewer is turned on by cock. It continued like that for a while. Suddenly, there were less women in the video and more cock, then no women and then shemales. And then shemales getting fucked by cock. And then the text talked about the viewer wanting to be a sissy. It was really clever and hot! After that video, we watched some k-pop videos with porn mixed in. I think the porn was supposed to give off the idea that it was the k-pop girls were getting fucked. Finally, at the end of the show, the caller had me do some JOI for him and he came for me! It was great because more recently, he and I have been watching lots of videos and chatting. I LOVE our shows no matter what. But I really like pleasing my callers and as a cam girl, I get the most satisfaction if I know I've made the caller cum. I get that it shouldn't always have to be about that, but this is what I'm used to so it feels good when it ends this way!
Had a cuckolding cam show with a regular I haven't spoken to in a while. I used my big black toy. Talked about my black lover fucking me while he held my legs open. My lover came in me then the caller licked me clean. I held my vibe on my pussy while we role played that he was licking me. I put the cam really close to my pussy so he could see how wet I was. I watched him jerk and he shot off like a fountain. He always cums in a dramatic display! It was so hot!
Did a gangbang phone sex call with one of my frequent regulars. We talked about him having a party and letting all of the guys fuck me. He said I would be the "belle of the ball"; the only woman there. I got fucked by about 50 guys in various ways. This guy is so much fun! The calls are really hot, but he also has a funny way of saying things. My pussy is "grade A fuck meat", cumming on my pussy is "glazing that doughnut", hitting my cervix is "knocking on that door" or "ringing that bell". I can't remember all of the things he's said over the years. I'll have to post again or maybe tweet them next time I catch him saying one of his funny phrases.
Had lunch.
Talked to potential callers on Skype.
Did a long show with another less frequent regular. If they call a few times a year, I still think of them as regulars, even if they aren't exactly regular. Not sure if that would be every cam girls way of thinking. Anyway, this guy jerked his cock and told me about this 22 year old neighbor he's been fucking. They lick each other's assholes, do ass to mouth and some pee play along with every vanilla kind of thing you can think of. While he talked, I fucked my ass. It was a pretty long call, so I had to keep adding lube. I may need to look into getting lube that lasts longer because my Sliquid wasn't cutting it. After a while, he admitted he also fucks this neighbor's mom (not the mom and daughter at the same time). He said the mom is just as kinky! He didn't cum on the show because he wanted to edge longer, but I came several times.
Had a show with one of my very frequent regulars. I vibrated my pussy while playing with my tits and he jerked his cock for me with his swollen cock head pointed directly at the cam. He shot off a really big load. I love seeing cum squirt out. It's one of my favorite things, but the way this caller sounds when he cums is at least as good as his cum shot. He grunts and growls. It is so fucking sexy. I'd love to hear that while fucking him!
Talked to potential callers on Skype.
Laundry and dishes.
The guy who didn't cum earlier in the day because he wanted to keep edging called back! We played for another 15 or so minutes on cam. I tried to cum again while fucking my ass. I didn't get there in time, but I was thrilled to see him shoot off a nice load. His cum shot had an arch to it. It was so hot!
Didn't get to cum on last show so I made a video for onlyfans of me finishing myself off. If you don't know what onlyfans is, you should check it out. It's basically a membership site. The way I'm doing it is a few picture sets, gifs and one video a week for $5.99/month. And the stuff I'm posting is about 90% exclusive to onlyfans (the 10% that you can find elsewhere would cost you way more than $5.99 to see). If you like me, want to see more of me and want some way to support me and what I'm doing, this is a great way to do it!
Had a new caller do a cam show. He wanted me to be the naughty neighbor who comes over when his wife is out and seduces him. I didn't even pull out my tits before he came! I licked and kissed my dildo, sucked the head and then took it down my throat for a few strokes and he was good!
Posted the quickie orgasm video on onlyfans.
Had a snack.
Had a show with my foot fetish regular. I wore a babydoll nightie, pantyhose he bought for me a while back and a strap on. The strap on is something we added to our shows about six months ago. I love playing with him. It feels so good to do light domination with someone where it feels right and I'm not pushing myself. I know I turn so many guys away for domination. I just can't do it with most guys!
Had a quickie nude show. Did JOI and titty play while watching him stroke his big cock! This guy is young and has such a sexy body. He just likes watching a mature woman tease him with big tits.
Cam show with an Australian regular who loves having me make up stories about me having forced sex. He likes the idea that I've been forced to have sex so much that it's all I know and sometimes we add in that I now do it for money. And that I'm cheap! But that even though now I charge for it, some of my customers don't even pay for it. Yet I keep doing it. It's such a rotten fantasy, but it turns me on! And my perverted customer gets off so hard to it!
Did a quickie show with a newer regular. He didn't have a lot of time so he gave me some instruction beforehand so he could make the most of it. When we got on the show, I popped my tits out of my teddy, opened the crotch, laid back and rubbed my pussy. My pussy was so juicy wet from playing all day and it also felt plump. I can't explain that. It just felt and looked a little different. Like it was ready to be fucked. He got what he needed!
Took some pics for a new regular! He's having me take unlimited pics for him. Every time he buys a set, he wants me to take more. The only instruction is that I wear thigh highs and heels. The rest is up to me. I took the pics and sent them out and that was the end of the day in the life of this cam girl!