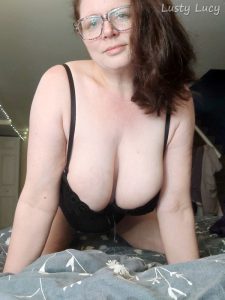 Ultimate Girlfriend Experience (UGFE)
Initially, the concept of the Ultimate Girlfriend Experience was created as a way for my callers to have a more personal experience with me, tailored to fit each of their needs. I've been offering the service for about a year now and have found that there are many ways in which callers can use the service.  UGFE has grown and changed. It is not a one size fits all service.
There is the ultimate girlfriend experience or the M/s experience. See below for details.
The Ultimate Girlfriend Experience:
The girlfriend experience is about having the perfect girl to listen to you, care for you and be exactly what you have always dreamed of between the sheets. What this means to one man is different from what it means to another. This is about you. What have you always wanted out of a girlfriend? This is what I'll be for you.
I enjoy the girlfriend experience because it allows us to fully enjoy one another. Instead of jumping right into dirty play, we can move at a natural pace and let things fall into place in the most delightful way. I want to know you and for you to know me. I need to satisfy your heart, head and your every erotic desire.
What you can expect out of the UGFE experience: Calls, texts, IM and cam time with me, your girlfriend. You will receive pictures- everything from pics from my everyday life to dirty, nasty, sexy pics.
The M/s Experience:
The M/s experience is much like the ultimate girlfriend experience, except instead of getting the perfect girlfriend, you get the perfect slave. As your slave, I will do whatever it takes to please you. During play time, I'll tie myself up as you command, I'll suffer for you with our implements of pain and I'll do humiliating things to ourselves and allow myself to be broken down for you. When I am not in your presence, I'll complete tasks as you assign them and send you pictures as proof of my acts of service. I'll worship you and cherish every bit of attention that you give me. Just as you receive the perfect slave in me, I will be grateful to have the perfect Master in you.
Will you let me serve you, Sir?
Here are some of the toys that I have available for you to use on me:
Rope
Leather strap
Clothespins (and floss to make zippers)
Paddle
Pervertible cane
Bit gag
Nipple clamps
Collar
Leash
Chains and locks
Rubber bands
Pig tail and raccoon tail butt plugs
Nose prongs
And should you choose to reward me with pleasure, I also have:
Two pussy dildos
One anal dildo
Mini magic wand and Hitachi
Pleasure butt plug
The way it works: Write me on Skype, Discord or email to make sure I am available. Send an offering and we will begin our first date. Men generally send between $150 – $250, to start. Ongoing offerings are sent as the relationship blossoms.
Testimonials:
"Lucy's one of those girls you knew growing up. Friendly, vivacious, genuine but with a mysterious sex appeal that reaches right down into your testicles engorging your member with a throbbing, orgiastic flow of carnal anticipation.
She won't let you down…
She won't leave you unsatisfied…
Lucy will make the experience worthwhile." ~ Anonymous
"Lucy is an absolute blast. She's sweet, fun, kinky, mouthy (in all of the good ways), and a wonderful experience. She always greets you with a smile, gets you all tingly with her giggle, and finishes you off with a moan. She's into almost anything you can imagine, and will leave you satisfied until you need some more." ~ Michael