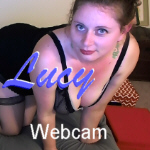 You are purchasing a live "Clothed" webcam session with Lucy of LustyLucyPlays.com. Before making this purchase you should contact Lucy and make sure she is available for a webcam session with you. You can IM her at "lustylucycam" email her at Lustylucycam@gmail.com or call her at 650-479-5829.
IMPORTANT – This is for a "CLOTHED" webcam session – if you are wanting a webcam session showing my boobs click here. If you are wanting a complete "Nude" webcam session click here.
Webcam sessions are done via Skype @ LustyLucyCam or Yahoo IM @ LustyLucyCam
Once your purchase has been made you will receive a payment receipt emailed to you. You will need this receipt info when you call for your webcam session.
This is a non-refundable purchase!