This day in the life of a cam girl was a long one! I got started just before 9am, stopped my regular hours around 7pm and then one last extra call came in around 9pm or so! It was lots of fun and very productive. I'll let the details tell the story.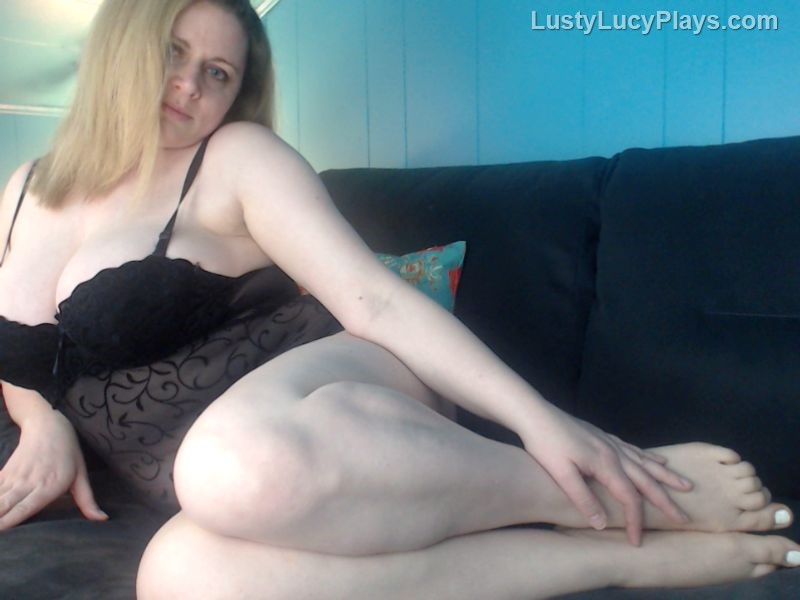 Sent out daily Tweet.
Typed to caller about a show and between typing, organized new content for Clips4Sale and ManyVids.
Responded to email.
Organized new content.
Edited videos and picture sets.
Lined up posts on Justfor.Fans/LustyLucyPlays.
Did phone sex call with infrequent regular. We talked about him fucking me while sliding a dildo into my pussy next to his cock. He came twice and he sounded so good!
Continued lining up posts for Justfor.Fans.
Did phone sex call with a regular who can't reach me as often now that I mostly do afternoons to early evenings. He's a morning guy and I'm so glad he caught me today! We did a long call. Talked about lots of black guys with huge cocks fucking all of my holes while he mostly used my mouth; having me both lick his asshole and take his cock down my throat.
Continued lining up posts for Justfor.Fans.
Had a snack.
Chatted with caller.
Edited video.
Continued lining up posts for Justfor.Fans.
Heavy BDSM show with sadist who recently made me cry! He is the second BDSM caller to make me cry EVER. He was a bit tame on this show. I think he could tell I was freaked out after our last show. It was very painful. This one was painful, but not as challenging. He had me do tit rubberbands, shake my stiff, purple tits, pinch and twist my nipples, stuff panties in pussy, put a big buttplug in my butt and a rope around my neck.
Show with a guy I've talked to before, but it's been a while. He liked me making fun of him and laughing because he cums too quickly. I teased him with my tits and pussy. Then I used my vibe on my pussy and talked about fucking other men and making him eat the cum as I got myself off. Then he came and admitted all of this is a fantasy – that he likes being told he's too small but he's not. He showed me. He's NOT small!
Lunch
Reviewed what older content I have that isn't on Justfor.Fans.
Edited video.
Snack
Show with a guy I've played with once before. He is a feeder with a weight gaining/fat girl fetish. I squeezed my belly, talked about food I ate recently and talked about how fat I am.
Played with Burt. He knocked over a bunch of my stuff, but not my laptop this time, thankfully.
Show with a guy I've done sexting and phone sex with before. He basically wanted me to behave and talk like a slut while he complimented me a lot.
Played with Burt some more.
Continued lining up posts for Justfor.Fans.
Did a long show with a regular who loves calling me names like whore and slut while he jerks for me. We started out trying to find someone for a threesome because our regular favorite wasn't around. We didn't luck out but we had a great time and orgasms!
One of the girls my last caller and I tried to hook up with got back to me so I explained what my caller likes. We're going to try to make it work another day.
Finished posts for Justfor.Fans.
Call with a new guy. He was jerking off in his car. He wanted to hear stories of times I've caught guys jerking off in their cars. I told him about a time my friend and I caught a guy doing it in his truck in traffic. I also told him about a time a guy offered money to me and two of my friends to do who knows what (we didn't speak with him, he just slowed his car down and held up a handful of cash).
Snack and started a movie.
Wanker wrote me. Blocked and back to the movie.
Chatted with a caller and fellow cam girl Nikki (see here on KinkSessions.com and Twitter) for a bit.
Did Daddy show. Sucked my dildo with lots of spit, talked about licking his ass and begged for his cum! He loves for me to vape too, but I just changed my coil and had to let it sit.
Stared into space for a while.
Had a show with another infrequent regular whose girlfriend is trans. He told me about their Valentine's night sex while he fucked himself with her cock replica dildo and I masturbated with my vibe!
Watched movie some more.
Phone sex call with a regular who likes to call me his fuck doll, stupid whore, cum slut, etc. We talk about him choking me, fucking me so hard he hits my cervix, fisting me, making me lick his asshole and similar.
Had a snack.
Movie
Sexting with a new caller then a phone sex call. He just had me suck, gag and drool on my dildo. We talked a little bit about how we might do some heavy BDSM in the future. He says he likes humiliation, face fucking, degradation and bondage. I'm looking forward to it!
Movie
Call with a newer regular who has an extraordinarily interesting role play involving power, public humiliation and a little bit of pain. I'd love to share more details, but he's very private about what we talk about so all the fun is just for him and me!
I finished the day with that last call, but then my Daddy texted me at 9pm or so and we had a cam show. Daddy is very controlling. He told me how to stand, when to strip, when to spread my cheeks and when to touch myself. He had me play with my ass. I loved doing anal with my big toy for him. Toward the middle, he started telling me a fantasy about how things would be with us if we were together. He made me cum a lot, as always and at the end, we talked about him spooning me.