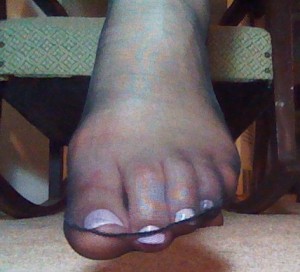 ps, a foot fetishist and submissive from my local BDSM scene and I are getting together soon! Here is some of the conversation via email with ps:
Hi ps,
How is life treating you? I hope you are doing well.
I've been thinking about you quite a bit over the course of the last week. If you have time in your schedule and interest, would you like to discuss being of service to me for an afternoon sometime soon?
I would enjoy it very much. Please let me know.
Miss Lucy
~ * ~
hello Miss Lucy
How are you doing?
To answer your question, i am doing quite well NOW, as this awful winter, i dare say, is behind us. i am officially viewing winter as past. Certainly the 5 degree temps. Good riddance.
More than when we interacted last, i am on a 'mission', to experience all that i can, because i have no idea when my kink and party days will end. My health is good, but i am getting in all the experiences that i can while i can. i don't want to look back and say, "Damn, 'ps' (haha), why didn't you try 'blank' when you had the chance?"
Service to you? Well, i am writing this at 7:55 am, and you wrote me at 3:55 am, so i would say i am interested.
It was very fun for me, this past summer, and i don't feel i need to remind you of that. The service, power exchange, and of course, let us now forget the foot worship.
i am quite curious exactly what has gone through your mind, recently mostly, to initiate your email. If you don't mind sharing.
always looking to serve,
fondly,
ps
~ * ~
Yay, ps! I am so very excited that you want this too.
With my phone sex work, there is a lot of talk about what I have done as a submissive and as a Top in the scene. I have a lot of stories as a submissive, but only one, very special story about being a Top (with you, of course). It came up a few times this week, and made me crave it again, to sum things up.
To start, are you available this Friday, March 14? I think 3 or 4pm will work for me. If not, we can come up with another day and time. I would like you to come over this week. I expect to have a busy one and would enjoy you worshiping my feet soon.
I have other ideas and plans/use for you, provided you are interested in more than just one afternoon of service/worship. 🙂
Take care, ps!
Miss Lucy
~ * ~
hi Miss Lucy,
What an exciting 24 hrs!
Am i game for service to you. Once again, the answer is a resounding "yes".
It is certainly thrilling to me, in ways you can imagine, to hear that you have given some thought to my 'usage', and have some potential plans for me. Very thrilling for me.
Not to 'beat around the bush', Miss Lucy, you know how much i enjoyed worshiping your feet this summer, and i have no doubts that it would again be enjoyable to me, and hopefully to you as well.
The following are among the activities that i am able to do, within my limits: nudity, my own masturbation, being masturbated by You, anything involving your golden shower, which is a big interest of mine, scheduling my masturbation, my consuming my own cum. i am also adding to this list, i don't recall your interest level, ass worship.
Not necessarily having to do with you, or us, is that one thing on my own list of wishes, is to perform foot worship while the Woman is having sex with her partner. i think it would simulate a cuckold experience for me, which i believe would be rewarding for me.
i texted you that i am 75% confirmed to already have a pedi this Friday, and i always honor my committments. But, i have the rest of my week free. So, i won't make any plans until i hear from you.
As i recall you do not like "ma'am", but prefer "Miss", or "Miss Lucy"? Right?
This is all very exciting for me, Miss Lucy, and i am glad to hear that you have plans for me, and the good sense to firstly, let us start with Number One, and go from there.
thanks for thinking of me,
ps
~ * ~
Hi ps,
Friday is the only day I have available this week. I have a busy week next week, as well. Monday I am working 2girl for my site with my girlfriend, Wednesday is my birthday. Friday, March 21 is a possibility. Do you have availability next Friday, between 3-4pm?
I am pleased that you have given me a "do" list. Good to know. I will work with this. In fact, I have a task for you. But first, remind me of your masturbation habits, including what you have done in the last week.
I prefer Miss and Miss Lucy, at this time.
Miss Lucy
~ * ~
hello again Miss Lucy,
How exciting you have made my day, in case you hadn't noticed.
Miss Lucy, i am very much into the kink scene. Doing zillions of pedicures, at public parties, private ones, individual ones. Plus, i get to play sometimes. While the prospect of serving you, doing service for you, pleasing you, amusing you, obeying you, is all very exciting to me, it is not like i am not being kinky. i have lots of kink. TIME, and i have lots of it, and my loyalty, i am willing to go to any extreme, to prove myself to you.
Masturbation? Glad you asked.
For me, more than anything, it is a combination of a sleep aid and habit.
How do i masturbate and when? 99% of the time, it is right before bedtime, to help ease me into sleep. i use a product called Astroglide, and i have a ski cap, believe it or not, that i clean up with. It doesn't take long, and is always accompanied by fantasy.
So, what do i fantasize about?
Well, my last fantasy was that i see a man and three pretty women in an elevator. i ask about pedicures for the ladies, and they accept, and during the pedicures, i tell them all about my submissiveness and just how low i desire to be treated and to serve. They, the 4 of them, are happy to accommodate my desires to be sexually degraded. i am forced to clean each female from her lover's cum, from whichever hole it is deposited in, and when they learn about my interest in golden showers, they shower me in the hotel room shower, with their pee.
A great fantasy, especially since my actually seeing the 4 of them adds realism to it all.
So, if you ask me what i am likely to fantasize about, that would be a perfect example.
Let me also mention this about how my body works. It is sort of unusual, i believe. My body remembers whatever it did the day before, with regards to masturbation. Meaning, that if i did not masturbate yesterday, then my body is not expecting to masturbate today. But, if i did jerk off yesterday, then my body wants to jerk off today as well.
i DID masturbate Sunday night, my first time in over a week. i also treated myself and masturbated to orgasm on Monday.
So, based on that, i am guessing my body will expect to enjoy it again tonight.
looking forward to continued foot worship,
ps
~ * ~
Hi ps,
I appreciate your honesty- in all things. If you don't already know this, and if there is any question, I would not be able to play with you if I didn't enjoy the foot worship, your company and other areas of service.
I enjoyed reading about your fantasy.
Your masturbation "situation" is interesting. I don't recall you telling me how your body works. Given that, tell me, ps. Prior to meeting up with me again, are you willing and able to hand over control of your orgasm?
Can you meet up next Friday, March 21? You failed to respond to this part of the email.
Miss Lucy
~ * ~
That's it for now. Enjoyed reading this? Let me know by contacting me by phone, email or IM.
To be continued…