A month has passed since my last post and the time certainly flew! When I posted my video update, I thought I would either be moving back in with my friend or staying at my boyfriend's house. It turns out there was a third option! I have decided to move in with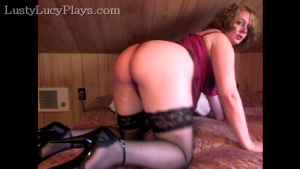 some kinky people. I found them through Fetlife. I'm excited! My work can be very isolating. In the last two and half years, the only new friend I've made was Aubrey's husband. In the new house, I'll be sharing space with two men and a woman. I haven't met the second man, but the first and his submissive are very cool people and they have a dog. Truth be told, I would have been sold on their dog alone, but it helps that they are so awesome.
My mom is doing pretty well. She has had some treatments that seem to be helping with her health issues and we're seeing some improvements. Christmas was fun! My entire immediate family was there and one of my sisters brought her dogs. I can't imagine ever having too many dogs around. We had amazing food. The menu was created by my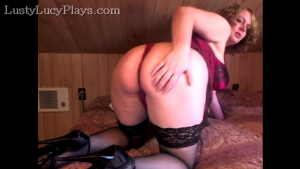 brother-in-law (an amateur cook who could delight any food critic) and for once, the men kicked us women out of the kitchen! All I did to help was chop some scallions and wash a few dishes. My brother-in-law also made me my first Manhattan. Everybody was in good spirits and we had a lot of fun.
2 girl is still on hold. I will announce our return on here and on Twitter once Aubrey and I schedule some dates.
It's been a busy and fun time at work around here lately! A few callers who I haven't heard from in a while did some shows and calls with me and I've played with some new guys too. Here a few phone sex and cam highlights from the last month:
The return of some of my favorite sadists. They ordinarily play with me solo only occasionally, saving most of our play time for days Aubrey can beat me. I was having quite a dry spell of heavy BDSM via cam and both came back on the same day! I brought out my newish pervertible cane. I pulled the tension rod off window blinds. It works well as a cane, but I'm thinking I need to buy something a little more harsh.
A  bunch of calls with a man who loves me to be his gangbang slut. I nearly always have more than one orgasm when he calls!
Enjoyed some time with a hottie who has a smoking fetish (I vape).
On my first call of the day one morning I was nearly ruined for everyone who came after. He knows how to mix pain with pleasure and I had so many orgasms, I needed a little break before moving on with my day!
Used my way with the written word followed by creating a video to cater to a caller with an interest in control, panties and a bit of financial play (not ordinarily something I do much with, but my playful take on it seems to fit him).
Had some time with my "other" girlfriend who loves to imagine I have a cock. I'm not a man in the fantasy. Instead, I'm a shemale with matching big tits to my large dick. There is something about playing with her that makes me feel loved, romanced, incredibly aroused and surprisingly somewhat dominant.
I pulled off a show for a man who loves a view of my tits, asshole and feet- ask me to show you how I do it all at once!
One caller who I've been playing with for ten years called. He has this hot fantasy involving an exam by Nurse Lucy and a few student nurses. Tonight we switched it up a little and I played his psychologist. It was fun and hot to try a slightly different role.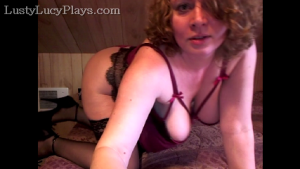 If you like the photos included in this post, check out my Twitter feed (@LustyLucyPlays). They are screen shots from one of the teaser videos I made. I've created a few in the last month and plan on making more and uploading them to Twitter!
Happy New Year!