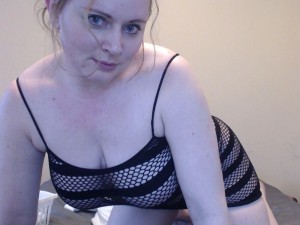 I moved in with the three kinky people I mentioned in my last post. It has been nice being surrounded by people I can say anything to. I'm decent at being a chameleon; fitting in with most groups of people. My interests are probably not even thought of by most people and I can't talk about my job to everyone. I've tried, but it makes most people uncomfortable so I've gone back to feeling people out before opening my mouth! Again, it's nice being around people who are ok and up to talking about anything. My roommates are semi-nudists, so that has been interesting for me! I adjusted to seeing quite a few naked people at fetish parties. I was commanded to be naked or mostly naked by my ex dominant. I still wasn't completely prepared to be in a naked household! When the couple (a dominant man and his submissive) are home, they are often naked. Especially the man. It may seem odd that I would be thrown of by nudity. I guess it's the context. I am not used to seeing it where I live! On the couch, passing me in the hall and frying a pan of eggs in the kitchen! I might just have to join them at some point!
My set up at the new place is great. I'm in a large room and was able to organize my massive collection of lingerie, stockings and heels! I can stand to buy another dresser or storage systems for my other cam outfits; dresses, skirts and tops. My closet has two large mirror doors. If I turn my cam a bit, callers get a great view of my tits and ass at the same time! And I finally have room to stand! That has been a challenge in the last two rooms I worked from.
Aubrey and I are back to doing 2 girl days, though not as frequent as in the past and we've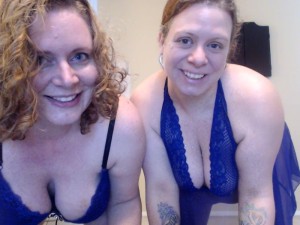 had to reschedule a few times as things haven't completely calmed down yet. I expect the next few months before her baby is due to be hit or miss and once the baby is born, Aubrey will be restricted from doing penetration for a while, not to mention having a new little one to care for! To anyone who is reading this: catch us while you can! Especially if very pregnant women is a turn on for you. Visit our 2 girl site and follow us on Twitter @2GirlCam to keep updated on upcoming 2 girl days! The next date is this coming Monday, March 21.
Since it's been a while since I posted, here are just a few highlights from the last few months:
A very young (early 20's) cutie who is in the military and calling me from overseas when he gets a moment alone.
An absolute sweetheart who has sent me a few love notes via email between our shows. It turns out, he is a bit delightfully twisted and we've tried out a few kinky things.
A man who likes longer shows. I enjoy quickies as much, but it has been nice chatting with him before getting to the sex stuff. It's sort of like going on dates with him; dates that always have sexy endings!
A man who likes group sex. He created a video including a picture of me on my hands and knees with a moving image of a man behind, fucking me and a moving image of him stroking near my face!
My hot Daddy is still calling! It's great meeting and playing with new people, but there is something very cool about developing special relationships over time. He's started having me prepare before he calls; butt plug in, nipple clamps on, vibrator on my pussy. He calls when I am already moaning!
On the last few shows with one of my panty boys, he brought out a cup to catch his cum and eat it. We still haven't gotten him to eat all of his cum, but he's getting there. It's not the act so much as the gesture that does it for me. Making him taste his cum and knowing he's doing it to please me is very cool!
I could go on and on! There really are too many highlights in my head to actually list here! It's been a great few months!