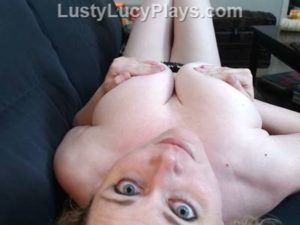 This turned out to be a fun day between cam shows, phone sex calls and chatting. I was able to allow time to IM with a caller I used to chat with a lot who has brought me a lot of good luck in the last year or so. In that time, he writes me and I try to say hello for a bit and suddenly I get swamped with requests for shows! I let him know and I squeeze a cam show with him in, but we never get to catch up. We have been emailing instead. Anyway, on this day, we finally did get to chat for a while.
Took pictures for cam day tweet. I like to tweet a picture at the beginning of the day, but I ended up tweeting it at the end. I was super busy and did some slacking off in the form of chatting with a caller, my friend, Stella and some other cam girls in a group chat.
Talked to fellow cam girls in group chat.
Did second cam show ever with a guy. I stripped, sucked my nipples for him, used my Womanizer vibrator on my pussy, fucked myself with my dildo, sucked my dildo then begged for his cum.
IMed with Stella.
Booked a JOI phone sex call for later with a caller who used to do only mutual masturbation cam shows with me.
Did a vape/smoke fetish, suck, spit and choke on dildo cam show with a Daddy caller.
Had that fun, long conversation on Skype with one of my callers.
Had a show with an Australian regular. He likes mostly dildo fucking. I usually start out slow and then work up to hard fucking. He likes hearing me say that he can visit me and actually fuck me.
Chatted more with my caller and a bit more with Stella, another caller (a very special sadist) and the guy who booked the JOI phone sex call. I talked to the JOI guy about Stella. He seemed interested in a possible threesome cam show sometime in the future.
Did a cam show with the caller who I had the long conversation with. He loves anal. Usually he will have me fuck my pussy or use my vibrator on it until I cum, then I will fuck my ass. We do all of this on my bed. This time, I was standing for him in my slutty dress and heels and he liked the way I looked bent over near my mirror at the wall. I suggested fucking my ass there and he liked that. I ended up fucking myself standing, half standing and half on my bed, then head down ass up on my bed and finally on my back on the bed with my vibrator on my pussy. I came like that, then I got on all fours until he came.
Had a cam show with my special sadist. Usually we do some breast bondage and/or rubber bands around my tits and some impact and then we'll do some breath play with a bag (or not, but usually we end with the breath play). Today we did almost only breath play. I had a freak out moment and it almost ended the cam show before he came, but I was able to continue. I'm not sure exactly what happened, but I had a moment of "this is too much" escalate to "I can't take this another second" rapidly. It was all ok in the end.
Finally did the JOI call. We added some edging and he really enjoyed it! I brought him close to cumming without actually squirting twice and then brought him to the edge a third time and told him to imagine jerking with his cock head on my tongue and releasing his load just like that!
Chatted with a caller.
Had a cam show with a new, young caller. He's 21 years younger than me! That is my largest age gap on that end ever! He loved the age difference. He had me wear jeans and a tee-shirt. We talked about sexy things and slowly over time I worked my way out of my outfit. By the end of the cam show, he was saying all kinds of nasty things to me while watching me finger my ass. Calling me a whore and asking me if I like giving blow jobs for $20 (or something along those lines). What a mouth this kid has! It was a hot cam show to end the day with.